I don't have many followers on social media. Am I doing something wrong? Should I just close my account?
The number of followers that financial advisers have is not a reflection of how likely they are to attract prospects from social media marketing.
According to many social media experts in the financial service space, the number one thing stopping advisers from growing their businesses on social media is the lack of a strategy, not a lack of followers. Social media performance is not the same as website conversions. It's how advisors post to social media that makes the difference. Therefore, simply posting on social media isn't enough.
"A successful social media presence shares several distinct features, allowing any adviser to enhance their social media footprint, even if they don't have many followers," Samantha Russell shares on AdvisorPerspectives.
But how can I use social media to grow my adviser business? Russell highlights that sharing the right content is critical.
Many advisers will choose their most successful blog post and expect it to perform just as well on social media. But content on your website is not the same as the most successful content shared on social media pages.
A post on social media is there to drive awareness. It is personal, entertaining, humorous and catches the attention of your niche audience.
Russell illustrates it with the following example: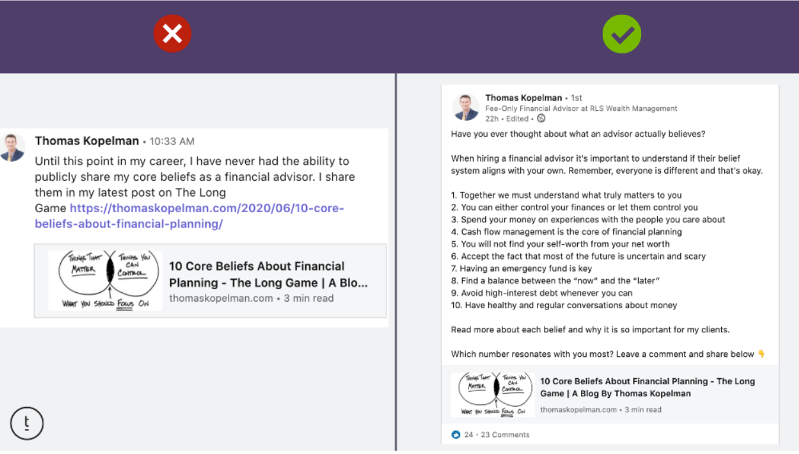 The post on the right provides the reader with more context, showing what they should expect from clicking the blog link. This connects the social post to the content by demonstrating the tangible value of following the link.
Click here to read her article that explains how to improve your social media skills.