Bonitas Medical Fund's 2024 weighted average increase in gross contributions has clocked in at 0.6% lower than that of its strongest competitor, Discovery Health Medical Scheme (DHMS), and 2.7% lower than that of Momentum Health Solutions.
On Tuesday, DHMS announced a weighted average contribution increase across all benefit plans of 7.5% for 2024. A day later, Bonitas made known that its weighted increase for next year is 6.9%. Momentum Health's weighted average increase for 2024 will be 9.6%.
Discovery Health offers 25 health plans, while Bonitas provides 15 options in five categories: savings, traditional, hospital, edge (virtual), and income-based.
Momentum Health now provides seven benefit options, including the newly launched Fusion Option aimed at employer groups.
Depending on members' plan choice, the contribution increases for Discovery Health's plans range between 3% and 12.9%. In Bonitas's case, plan increases range from 2.7% to 9.6%.
Discovery stated that 39% of its members will experience an increase of less than 4% in their gross contributions, and a further 34% of members will experience an increase of between 5% and 10%. If you add these two percentages together, Discovery Health said, it effectively meant that 73% of its members will experience an increase of less than 10%.
The average increase across nine of Bonitas's plans is 6%.
"This means that over 227 000 members – around 65% of our membership – will experience an increase below CPI," said Lee Callakoppen, Bonitas's principal officer.
Headline inflation versus medical inflation
In a circular distributed in August, the Council for Medical Schemes (CMS) advised schemes to limit their contribution increases for 2024 to 5% – in line with headline inflation as measured by the Consumer Price Index (CPI) – plus "reasonable" utilisation estimates. The CMS projected this at 3.2% to 3.8% based on its analysis of cost increase assumptions for 2023. In other words, a recommended increase of just over 8%, give or take a percentage point or two.
The CMS uses CPI as a proxy measure for the affordability of annual contribution increases.
Read: CMS releases guidelines on medical scheme increases for 2024
Addressing the drivers of medical inflation for 2024, Discovery Health stated healthcare claims increase by medical inflation. It added that in almost all countries across the globe, medical inflation ran at a premium to consumer price inflation, "typically 3% to 4% higher".
With regard to changes in healthcare utilisation, the medical scheme listed two period-specific factors that contributed to the changes:
Additional adverse selection risk because of rising interest rates; and
The cost of the diagnosis and treatment of Covid-19.
The repo rate is 8.25% – the highest it has been in 14 years.
Commenting on the ongoing impact of Covid-19, Dr Ryan Noach, the chief executive of Discovery Health, said Covid-19 was in a steady state since the end of the pandemic emergency phase, "and so adding to the global disease burden".
"The projected costs of Covid-19 to the scheme are estimated at R700 million for 2023, to fund Covid-related diagnostic testing and treatment, including in-hospital care. This year, the scheme has so far funded 3 500 hospital admissions for members," Noach said.
Damian McHugh, chief marketing officer of Momentum Health Solutions, said as the administrator of medical schemes with almost three million members, they had seen claims costs increasing to higher than pre-Covid levels.
"At the same time, inflation means that the average cost per claim has also increased notably," McHugh said.
According to Callakoppen, Bonitas's percentage increase was methodically worked out by its team of actuaries, who determined the minimum increase against ensuring the financial sustainability of the scheme while meeting the regulatory guidelines and requirements.
"It's a delicate balancing act," Callakoppen said.
Increases per benefit plan
The table below shows the expected Discovery Health contributed changes on some of the medical scheme's product plans.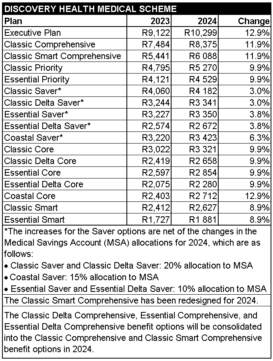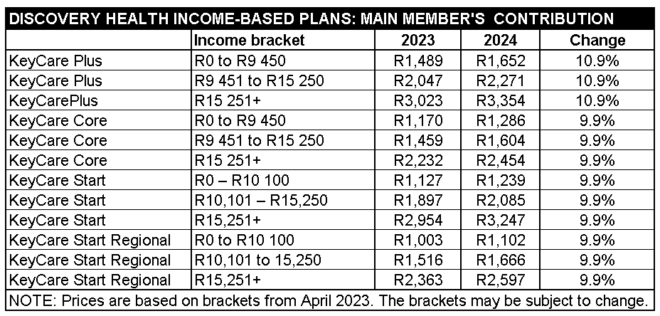 The table below shows the expected Bonitas contribution changes on some of the medical scheme's product plans.